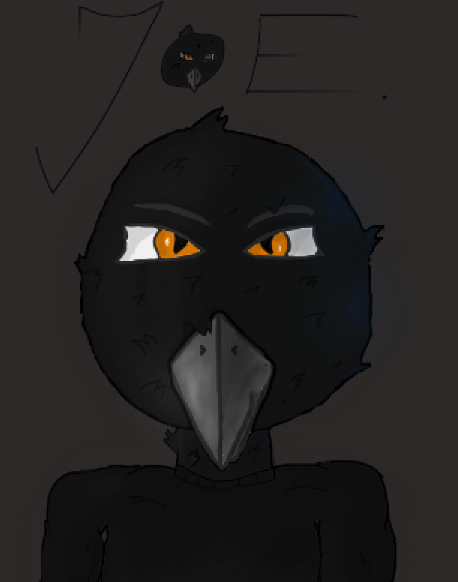 Basic information:
Name:
Joe Scharff
Species:
Crow
Age:
24
Gender:
Male
Date of birth:  
December 5th, 5590
Faction (if applicable):
Occupation and current residence:
Hacker, Unidentified

Appearance:
Joe has feathers in a deep black crow color. If he stands in the perfect lighting, he has a slight blue tint that will look like it is glowing. His eyes are not very special. His irises are orange colored. He's tall and a bit muscular. His beak is razor sharp at the end. His claws aren't very sharp but strong. He can hold enemies to the ground with them if they're not too strong. The clothes he usually wears are black. The same colours as his feathers except they don't have the blue shine. His arms are his wings. They can also form a decent shield and as long as the object he's shielding himself from isn't sharp, his feathers can mostly take it. His clothes helps him at hiding in the shadows since they are dark colored.
Personality:
Generally speaking, Joe is a very friendly guy. He isn't afraid to help people out when they're in trouble or just need help. He doesn't like music too much but he likes some songs. He won't get upset that easily. The one thing that
does
distress him a lot though, is whining people.
Likes to go to their family's graves and tell them what he has seen or been though that week.
Likes:



Freedom




Flying




Heights




Adrenaline




Steak




Hacking



Dislikes:



Fighting




Bullies




Swimming




War




Failing




Guns



Combat information:
Powers:
Hypnotizes 1 enemy for 10 seconds (makes them light headed, and the species: wolves and birds are not affected by the power)
Other fighting abilities:
He is a decent fist to fist fighter when angry.
Decent freerunner when in a normal mood.
Strengths:
He is good at escaping and hiding from enemies when he is extremely scared.
Good at helping others.
Can observe surroundings very well.
Surviving at his own.
Weakness:
He is extremely sensitive to bright lights and super sharp objects.
When he is sad his fighting skills, flying skills and hiding skills decrease.
Becomes sad when his helping fails.
Social information:
Has no relationships so far.
History:
He lost family members due to others not helping them. The people who he asked were scared of crows and thought they were from the devil. When he helped someone the first time he got that awesome feeling because someone said: "Thank you!" since then he tried helping everyone.
His family members taught him how to work with computers but since they died he wanted to continue their habit.
Doesn't want to join a faction because he is better at his own. He had to survive alone for a few years he tried to join a group but then didn't work out well. He had to protect someone else instead of only himself. He kept trying to work with others but every time it failed. All the fails made him sad and made him an easy target since all his skills were decreased.
Trivia:
Every time when he helps someone he gets that weird eye itch and he sometimes even farts.